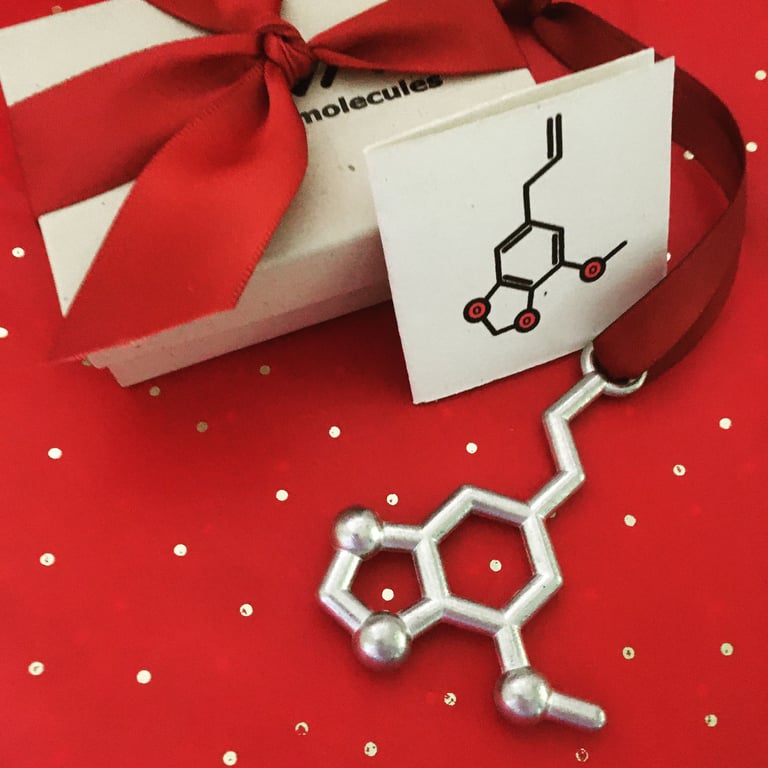 This year's molecule holiday ornament continues the tradition of honoring the molecules of winter holiday spices with myristicin, symbolizing nutmeg.
Nutmeg comes from a tree, Myristica fragrans, native to Indonesia. The hard seeds are grated into nutmeg and the lacy seed coating is ground into mace spice.
I had never given nutmeg much thought, until last holiday season when we made homemade eggnog. Freshly grated on this festive drink, nutmeg instantly became a favorite. Now I know that I've enjoyed nutmeg in many holiday treats without even realizing it.
The molecule myristicin is in many of our favorite foods including black pepper, parsley, and carrots. It is a specialty of nutmeg, though, where it can make up a whopping 4% of the weight of the spice. Like many spice phytochemicals, myristicin is an insecticide and is cytotoxic in large quantities.
Those rumors you heard in middle school about getting high off nutmeg? Turns out it's kinda true. Myristicin can be metabolized into an MDMA-like molecule to give feelings of euphoria and hallucinations. But it also causes nausea, vomiting, abdominal pain, and possibly death, so it's not really worth it.
As always, dosage is key. A sprinkle on your eggnog or coffee is not going to hurt you, but it could make your day a bit brighter.
The ornament is made in the USA of lead-free pewter. It is almost 3 inches long and is attached to a spice-hued satin ribbon. The ornament will come packaged in a recycled paper box tied with a ribbon and a little info card about myristicin - a wonderful gift for any science or spice enthusiast!