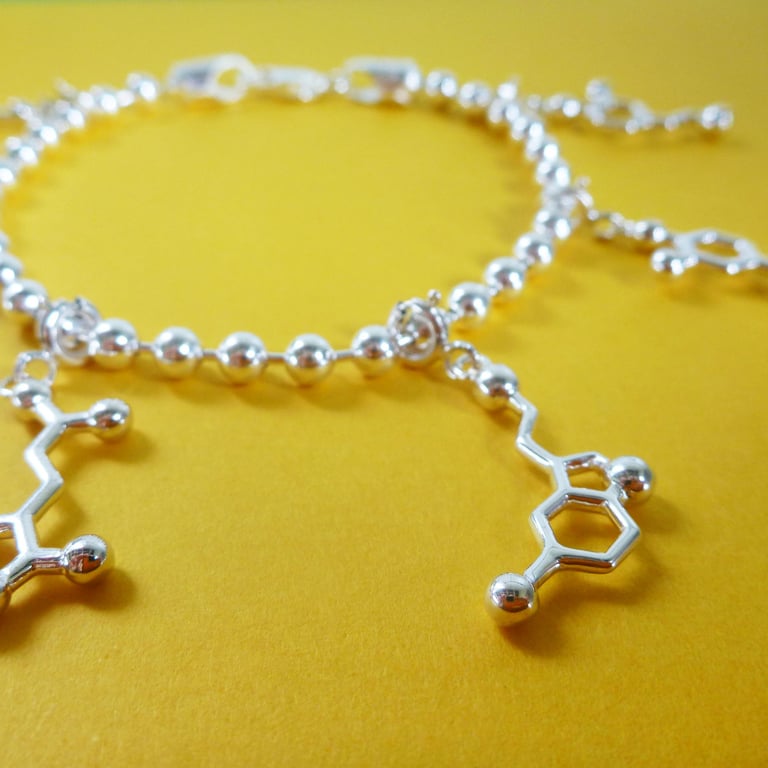 neurotransmitter bracelet
For all their nuances and variations, moods are mainly controlled by just a handful of chemicals. It's the many combinations of neurotransmitters that make our emotional lives so rich.
This bracelet includes six detachable neurotransmitter charms, allowing you to match your mood - or your desired mood.
Want to be creative? Clip on acetylcholine, dopamine, and serotonin. Want to improve your memory? Try glutamate and acetylcholine. Want to relax? Use serotonin and GABA.
The kit comes with one each of acetylcholine, dopamine, GABA, glutamate, norepinephrine (noradrenaline), and serotonin. You can get additional charms separately.
The 7 inch bracelet and charms are sterling silver. Each is packaged in recycled materials and includes an informational tag with neurotransmitter recipes.
Truly a conversation piece and a wonderful gift!
Customer comments about this bracelet:
"I absolutely love my new bracelet! I was a little worried that it would be too small, but it fits perfectly! And it was beautifully packaged and shipped quickly. Thanks so much!"
"Absolutely a high quality piece. Additionally the packaging and attention to detail is amazing! Love this and the earrings I received."
"Just received my bracelet and I am extremely taken with it as it is more lovely in person. It was packaged wonderfully and how the molecules mimic the bright silver ball chain make it a stunning piece. I look forward to hopefully adding to it."
"This was a gift to my scientist daughter. She LOVED it!"