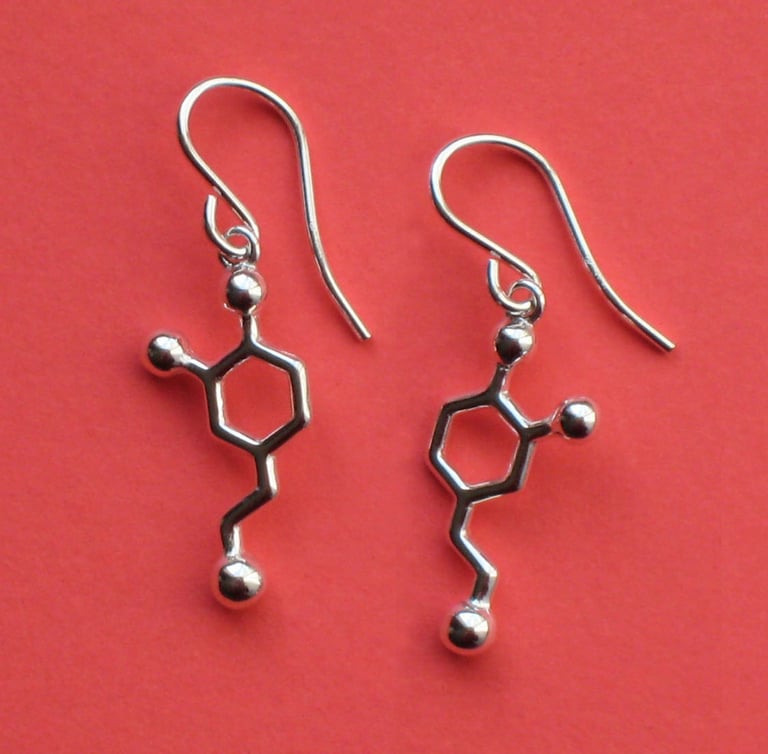 dopamine - love and pleasure
Ever been in love? Then you know what a lot of dopamine can do.
Dopamine acts in the pleasure pathway of our brains. It is activated whenever we do anything pleasurable, like kissing, adventuring, or eating chocolate, and compels us to seek out these activities. It's *wonderful*!
These solid sterling silver earrings are based on the shape of the dopamine neurotransmitter molecule. They are about 3/4 inch long, very pretty, and come in a gift box with a story card about dopamine.
Customer comments about these earrings:
"beautiful and well crafted with clear attention to detail! very pleased"
"These are absolutely fantastic! Perfect size and are so aesthetically crisp!"
"These were a present for my biochemist Mother-In-Law, and she is thrilled with them. So lovely and well made. Thank you so much."
"I got these to wear to my wedding and they did not disappoint! Absolutely beautiful!! :-)"
"i got these for my girlfriend's birthday and she's pretty much enamored with them. they're small and light, but catch light well. she also receives compliments regularly on them, and i really appreciate that someone is taking the effort to integrate art and science."