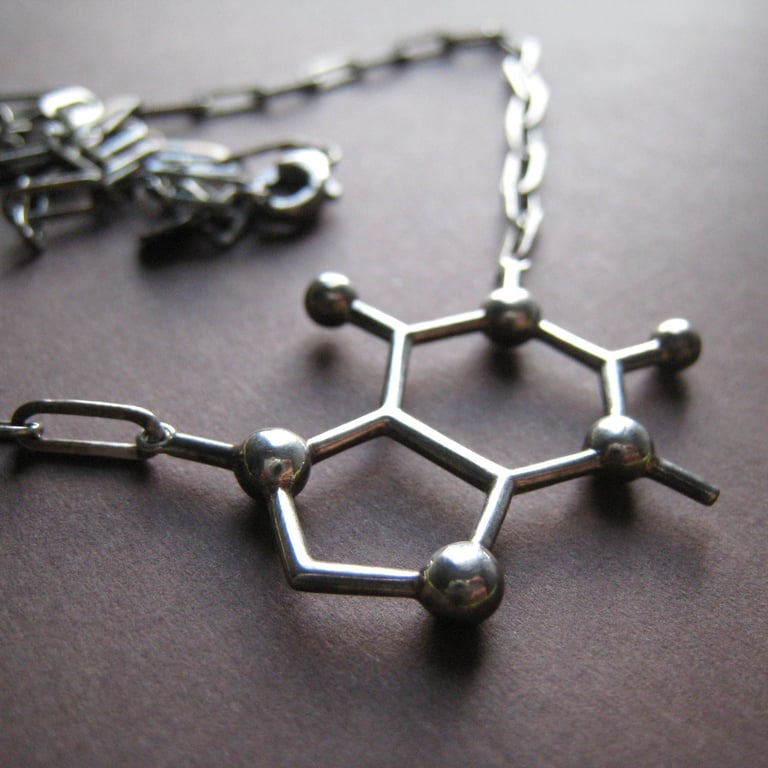 caffeine necklace - chunky
I love caffeine. Chances are, you do, too. Found in a dizzying array of our favorite beverages, caffeine causes decreased activity of the relaxing neurotransmitter adenosine and a surge of norepinephrine, keeping us awake and alert. The buzz feeling comes from increased dopamine. Caffeine may also increase serotonin, the neurotransmitter that makes us feel pleasantly happy.
This sterling silver pendant is based on the caffeine molecule. It's about 1.5 inches wide and made with recycled/reclaimed silver.
This necklace is like the classic, snake-chain version, but the pendant is attached to a sterling silver chunky link chain that looks more masculine. The necklace can be adjusted for length to about 20 inches. It closes with a lobster clasp.
The first two photos are the oxidized (darkened) version and the next two photos are the polished (shiny) version. Please specify which you would like.
Each necklace is packaged in a recycled gift box and includes an informational tag about caffeine.
Customer comments about this necklace:
"Great quality and design. Well packaged and prompt delivery."
"The coolest necklace!"