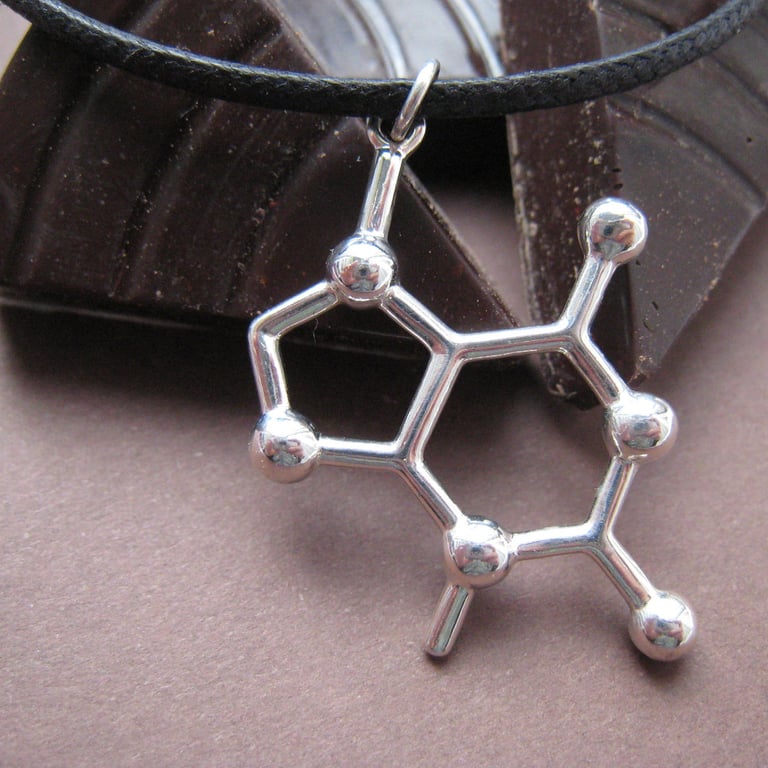 theobromine necklace - black
theobromine - chocolate
I made this necklace as a special order for a male chocolatier. I like it so much that I decided to make it part of the collection.
Theobromine is a mild stimulant related to caffeine that makes up about 2% of cacao beans. It's thought to elevate mood by causing the release of feel-good neurotransmitters like serotonin and dopamine. The name theobromine is derived from Greek words, meaning "food of the gods." For the health benefits from the flavonoids and antioxidants in chocolate, choose the darkest varieties. Yum!
The pendant is made from quality, recycled/reclaimed sterling silver, is about 1.5 inches long, and is attached to your choice of a solid sterling silver snake chain or a black cotton cord that closes with a sterling silver lobster clasp. I've listed several cord and chain lengths as options. If you would like a different length cord, please let me know.
It is packaged in a recycled gift box and includes an informational tag about theobromine. Thank you to Xoconat for the photo with cacao pods and beans.