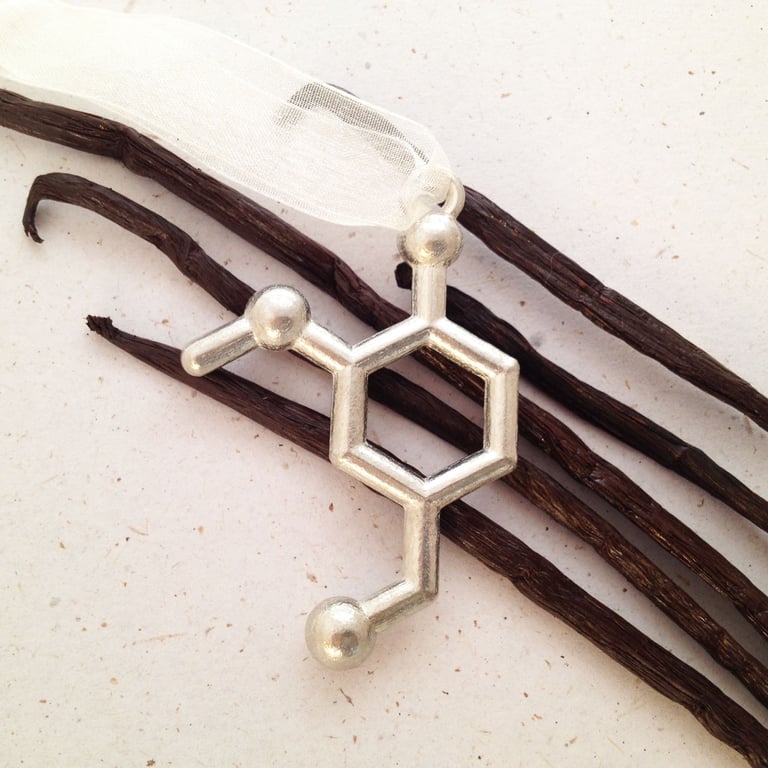 vanillin ornament for 2014
Each holiday season, I make a limited-edition molecule ornament. I choose molecules that have some association with the holidays (to me, at least!). For 2014, I chose to make vanillin, namesake molecule of vanilla.
The word vanilla is now widely-used slang for something bland an normal. Well, the vanilla bean and the vanilla plant are certainly not "vanilla." How could a spice grown on an orchid not be exotic and wonderful?
Vanilla is so ubiquitous in our holiday baking. It makes chocolate taste chocolatey-er and cookies taste richer, and we often forget how divine it can be on its own, showcased in real vanilla ice cream.
I have my ornament design cast in lead-free pewter by the awesome folks at ToadLand casting - USA made! It's about 3 inches long and comes on an off-white ribbon. It is packaged a gift box. A wonderful holiday gift to a science lover (or baker/chef)!