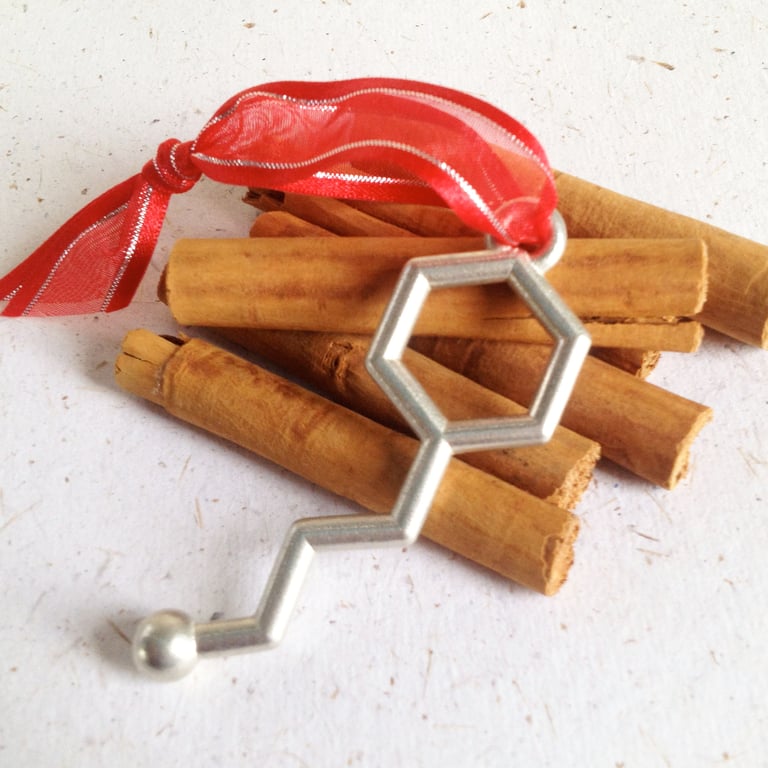 MWM's 2013 holiday ornament commemorates the wonderful spice cinnamon, a treasured part of so many beloved holiday recipes and hot drinks. Cinnamon decorates our olfactory and gustatory enjoyment of the holiday season.
We obtain cinnamon from the bark of a few tree species in the genus Cinnamomum. Cinnamaldehyde makes up the majority of essential oil from the bark and is responsible for its distinctive taste and smell. The molecule has antifungal, antimicrobial, insecticidal, and potentially anticancer properties.
This holiday ornament is cast from lead-free pewter by an artisan in New Mexico. It is about 3 inches long and comes on a ribbon. It is packaged in a recycled gift box with a keepsake hand-sewn organic cotton bag. It makes a wonderful gift!
Customer comments about this ornament:
"I love these ornaments! I have four now. please keep them coming!"
"I love Raven's molecule ornament series, they are by far my favourite ornaments on the tree at Christmas, and this one is no exception. Arrived incredibly fast as well, which is always a nice surprise. Love it! Thanks so much Raven!"