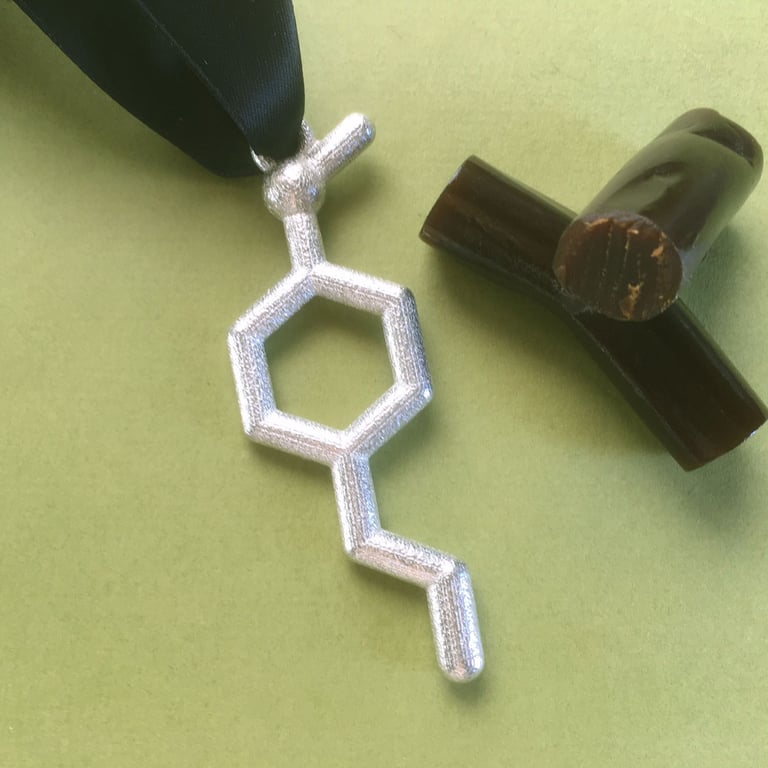 Anethole Licorice Ornament
The official MWM molecule ornament for the 2017 holiday season is anethole for licorice.
Anethole is found in licorice, anise, star anise, and fennel. It's used as a flavor additive to give that familiar licorice taste. As pipes, twists, or wheels, old-timey licorice candy was (and hopefully is!) a part of the holidays for many of us.
Because of anethole's high solubility in alcohol and low solubility in water, it is responsible for the opaque reaction (an emulsion) when some anise-flavored liqueurs are diluted with water, called the ouzo effect. Maybe it's time to get a bottle of absinthe, pastis, or sambuca for experimental purposes.
Cast in pewter by ToadLand Casting in New Mexico, this ornament is about 3 inches long and hangs for a black licorice color ribbon. It's a wonderful addition to your science-filled (and candy-fueled) celebrations, and also makes a great gift, since it comes with a info tag about anethole in a gift box tied with a ribbon.