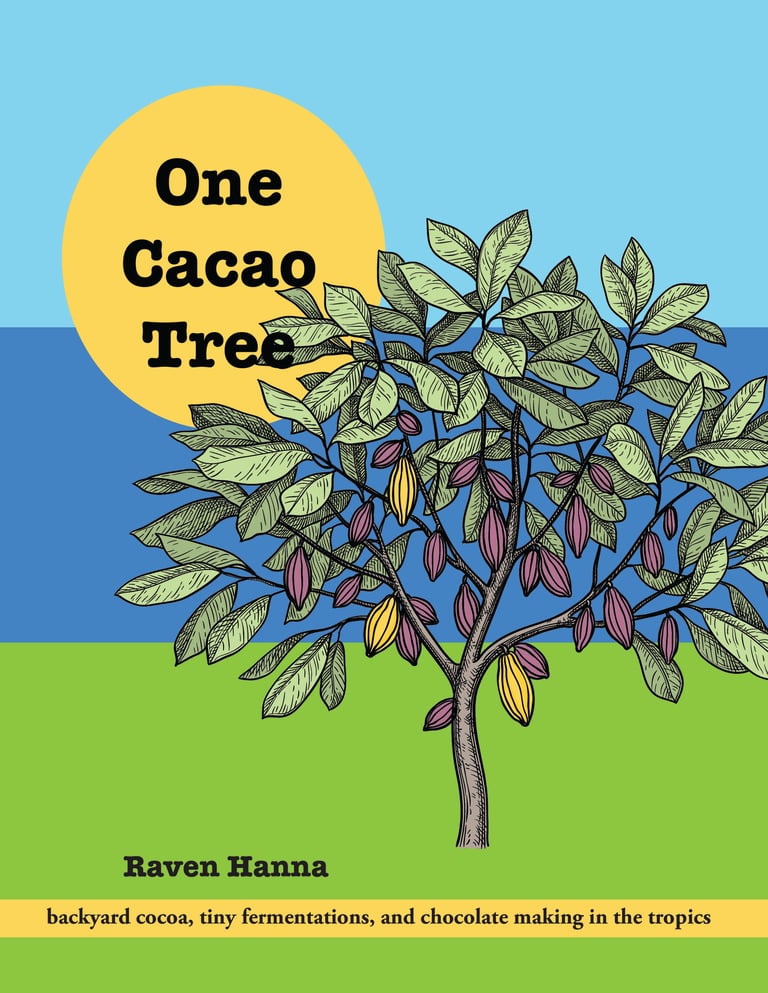 ONE CACAO TREE BOOK
8 1/2 x 11 inches, 150 pages, full color with lots of photos and recipes
published November 2022
We've grown cacao since 2010, but cacao and chocolate became my obsession during the Stay-At-Home days during the pandemic. Before dawn I tempered and molded chocolate. In the daytime I took care of my trees and the trees at the University of Hawai'i, Hilo. I explored methods of fermenting cacao bean in tiny batches and making chocolate bean to bar. I chatted with experts, took online classes, and read books and scientific papers.
This book is a synthesis of everything I've learned. It explains how to make chocolate from tree-to-bar and beyond. Covering topics of growing & harvesting, simple tiny fermentations, and chocolate & confections making, this book will bring more cacao into your life. It is written with small scale cacao tree growers and amateur chocolate makers in mind, but has been well-received by chocolate enthusiasts everywhere.
Inside you will find:
• savory and sweet recipes for every step of the process
• ways to ferment a tiny amount of cacao seeds
• a primer on basic chocolate making skills
• tricks for tempering chocolate in a tropical climate
• inspiration for using locally grown ingredients
• guidance to tasting chocolate
• encouragement to experiment and play
CHAPTER LIST
Introduction
One Cacao Pod
Tree to Bar Chocolate
Growing & Harvesting
Unfermented
Fermenting
Drying
Roasting & Winnowing
Grinding
Tempering In the Tropics
Molding and Dipping
Flavor & Tasting
A Bad Batch?
Canoe Plants
Rituals
Reader feedback:
"Order this book! If you love chocolate, there's always something new to learn. Not just for chocolate makers! An approachable, fun softcover book where the aloha spirit spills out the moment you open the cover." - Barb Genuario, @chocochaser on Instagram
"Wow! What an awesome book! I read it cover to cover... I have a newfound appreciation for chocolate making. I especially loved the different recipes for making things at every stage of the process and utilizing much of the pod along the way. While I likely won't be making tree to treat chocolates, it did open my eyes to what chocolate actually is." - Brandon, chocolate-eater in Seattle, WA
"My favorite book on chocolate and cacao ever." - Mackenzie Rivers, MAP Chocolate and The Next Batch chocolate school
If you would like your copy signed, please let me know. The price includes USPS priority mail shipping. I've added an option for media mail shipping to Hawai'i addresses. Unfortunately, I can only ship the book to US addresses at this time.
If you prefer, you can order the book on the Lulu Press website. Lulu Press offers more shipping options and often has coupons. https://www.lulu.com/shop/raven-hanna/one-cacao-tree/paperback/product-r98njn.html