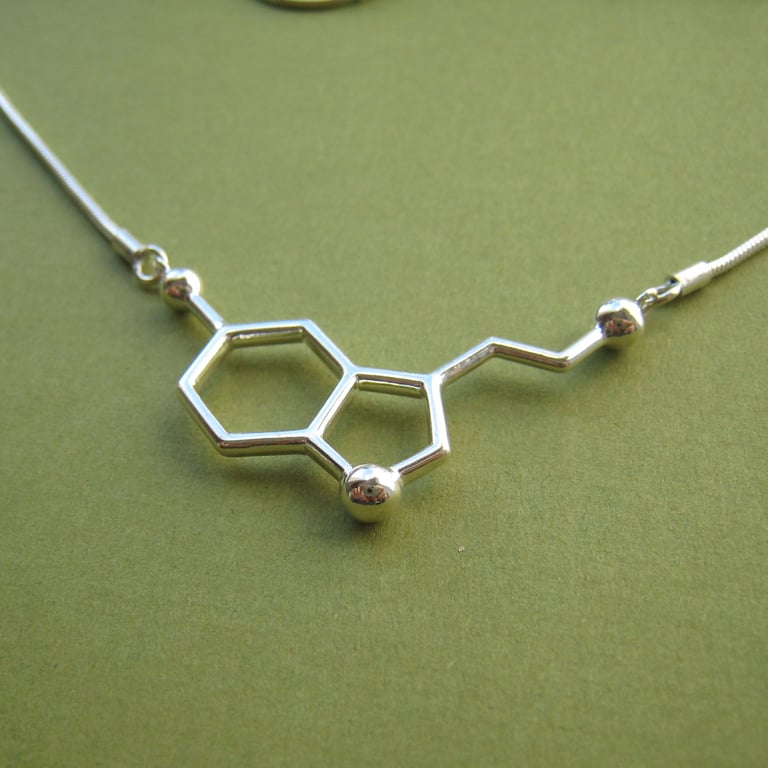 serotonin - happiness, relaxation, and satiety
Serotonin is a modern symbol of happiness. Serotonin molecules interact with receptors in the brain to induce feelings of happiness, satisfaction, and relaxation.
Serotonin also has an elegant shape. As soon as I saw it I knew it had to be made into a necklace. As a necklace, it is an attention-grabber. People constantly compliment this necklace whenever I wear it around town or to a special event. And it works: when I glimpse it in the mirror, I smile.
Serotonin is a thoughtful gift for someone you wish happiness.
The quality, recycled/reclaimed sterling silver pendant is 1.5 inches wide and attached to a sterling silver snake chain that can be adjusted for length between 16 to 18 inches. It closes with a lobster clasp.
Each is packaged in a recycled gift box and includes an informational tag about serotonin.
Customer comments about this necklace:
"Loved everything about this item. From the solid snake chain to the the sturdy lobster clasp. Its beautiful and made an excellent gift. Also loved the earth friendly packaging, serotonin info card/tattoo and just the ribbon wrapped box it came in."
"Bought it for my Wife (who suffers with depression and anxiety) and she loves it. Shipped on time and arrived by xmas. Its absolutely beautiful and really well made."
"Really lovely! The chain feels solid and the piece lays down very nicely. :) Will be back!"
"What a beautiful necklace! I bought this with an eye to everyday wear and that's what it's definitely going to get. You do incredible work."
"Beautiful, great quality and an amazing concept! This gift will be a big hit!"
"I am SO HAPPY with this purchase! The quality of the necklace really surprised me - it has some of weight to it and was clearly handcrafted with love. The chain is gorgeous and I love that I can adjust the length... It's perfect!"